There are only a few symbols better known than the cross. We see it everywhere across the world: on walls and churches, tattoos and jewelry, as well as body art on foreheads on Ash Wednesday. 
The cross symbolizes salvation for Christians. Jesus understood that the cross was in His future, and he also told His disciples that to be His followers, they would need to take up the cross.
But what did Jesus mean by this, and what is the meaning of taking up your cross for us today?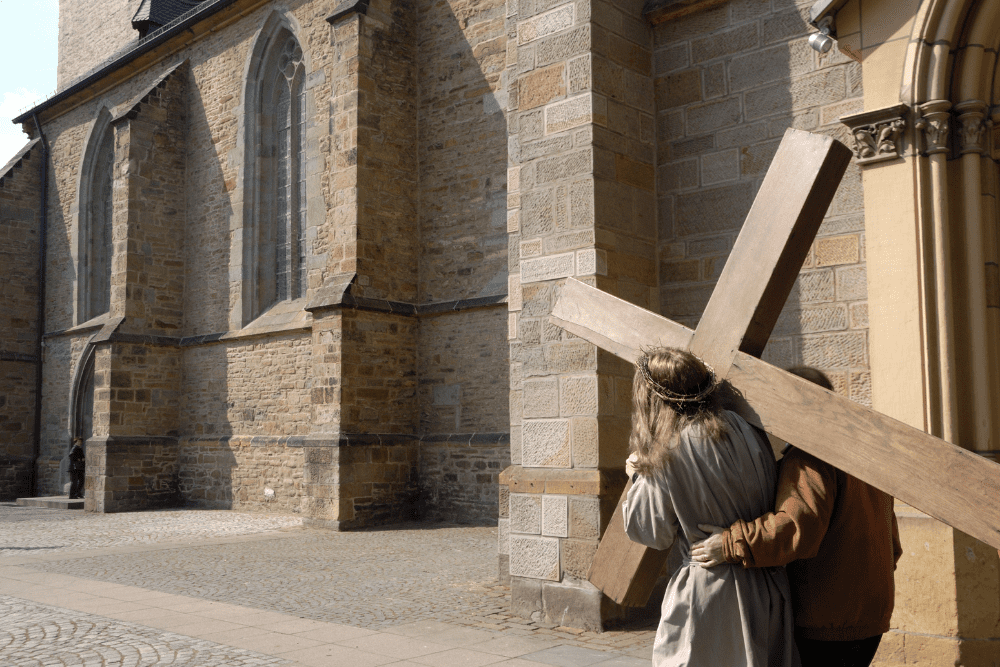 What Does The Cross Represent?
The powerful symbolism of the cross is revealed in different sections of the bible, and across history. 
One meaning of the cross can be found in Genesis where God revealed His plan to defeat Satan, and thus give us salvation through Jesus (Genesis 3:15). Here the cross represents God's fulfilled prophecy.
In Jesus' lifetime the cross symbolized the merciless and brutal death of a criminal or a slave.
Another meaning of the cross can be found in Psalm 22 which speaks of David's anguish and despair of his own pain. Here the cross represents the suffering Jesus endured.
Psalm 22 is a strong and acurrate image of the suffering Jesus would endure later.
Thus the cross is a wonderful symbol of the best gift Christians have received. It is a gift incomprehensible, and one that we have received without asking for it. 
Your personal meaning of the cross
You may have heard of the saying to bear a cross when someone speaks of an unbearable pain or burden. This might be a hardship in their life, a physical illness or misfortune.
When we suffer physically and emotionally, we need God's support to guide us, and when we can use this phrase in difficult moment we often refer to the cross that Christ had to bear.
However, this is not exactly what Jesus meant when he spoke of taking up your cross.
The Biblical Meaning Of Taking Up Your Cross
Jesus knew of his impending death and resurrection, and he spoke of this to his disciples. At one point Peter takes Jesus aside to say:
"Never, Lord! This shall never happen to you!" (Matthew 16: 22 NIV) Peter could not imagine Jesus' death and thus unspeakable suffering. He did not understand yet Jesus' intentions and purpose of his teachings of his death and resurrection. 
In verse 24, Jesus continues: "If anyone would come after me, he must deny himself and take up his cross and follow me." Although not clearly indicated, the disciples must have been shocked, as they knew what carrying a cross meant.
After all, crucifixion was a punishment for criminals. The pain and torment with the nails were well known at the time, so when Jesus asked his followers to take up their cross to follow him, it wasn't a comforting proposition and it doesn't sound like something anyone would do willingly.
However, Jesus' words had a much deeper meaning. He intended for his disciples to burry their own desires and plans for the future, and turn their lives over to Him and His will.
This would need self-denial and obedience but Jesus meant that to be his follower, he asks full dedication to Him and His purpose. There was no turning back.
This is still difficult today. It requires full trust in God's will and purpose, as well as restraining our own ego. Yet, while Jesus tells us that we should deny ourselves and take up our cross, it's not something forced onto our shoulders.
In Galatians 5:24 (NIV) it says: "Those who belong to Christ Jesus have crucified the sinful nature with its passions and desires."
Taking up your cross is a choice, something we do with our own free will, just as Jesus did. We put our old desires and passions to death, and belong to Jesus. This means that when we take up the cross, our lives' focus is on Jesus and it reflects His will.
What Does It Mean To Deny Ourselves?
To deny ourselves sounds like punishment, and that we have to abandon all what comforts us and instead carry a heavy burden. But denying yourself isn't the same as self-denial. 
Self-denial is, for example, when we choose to give up on vanilla ice cream when it becomes a habit instead of an occasional treat.
On the other hand, when we deny our Self, we willingly choose to replace our own thoughts and plans with God's thoughts and purposes. Then we live our lives considering others first before ourselves.
Jesus was a good example of this, and when our choice is to follow him, we agree to live as He did. This also means to sometimes to get out of your comfort zone and do things you normally would not do.
This deep and honest focus on God's values then bear fruit showing our commitment to living a life for Christ.
However, it isn't an easy task to deny ourselves. Our invariably sinful human natures often leads us to temptation and sin.
Our desire to express ourselves in any way we want is strong, and we understand that the struggle for holiness will go on all our life.
In Romans 8:5 (NIV), it says: "Those who live according to the sinful nature have their minds set on what that nature desires; but those who live in accordance with the Spirit have their minds set on what the Spirit desires." 
There are good news for believers though! We will steadily see a progression in our lives as we continue to deny thoughts and any actions that aren't Christ-like. The guidance of God helps us on our way.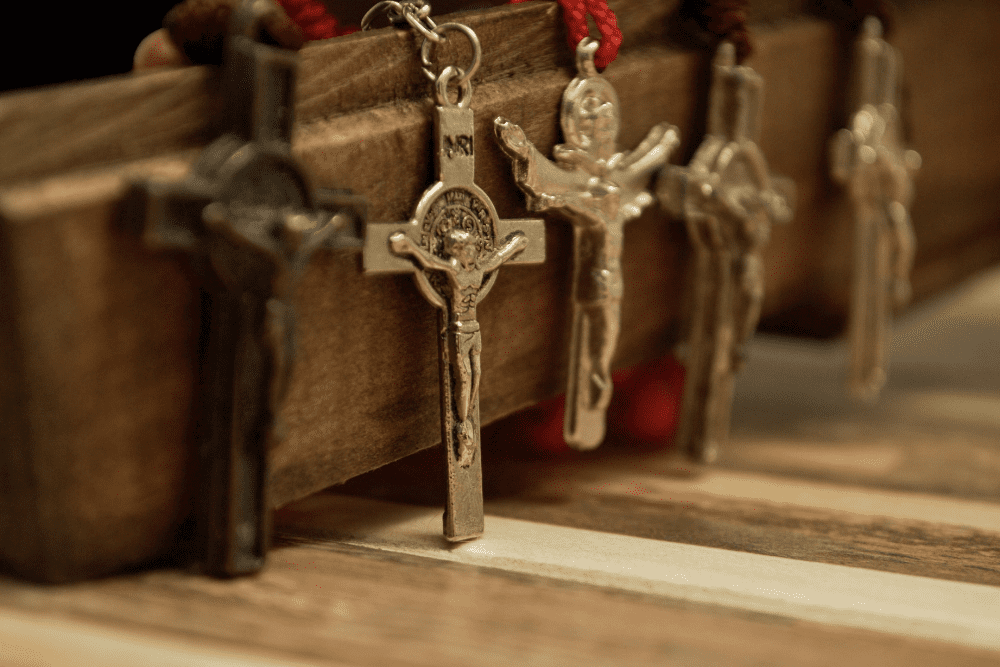 Easy To Follow Ways To Take Up Your Cross
There are different things you can do to follow Jesus and take up your cross.
Obedience to God
In Philippians 2:8 (NIV), it reads: "He humbled himself by becoming obedient to death- even death on a cross!"
As Jesus took up his cross to bear the burden of his own life, he did so with obedience and humility to his father. He put the will of God and His love for us above himself, up to the point of hix own crucifixion. 
When we take up our cross, we put our selfish desirres aside and adapt God's will for our own lives. This doesn't mean that our happiness or personality is diminished. In fact, it is the opposite.
We have the chance to find greater fulfillment and contentment (even in the face of trials) in our life. 
Be Aware Of Your Thoughts
The many things we think about every day can influence our words and actions. Paul has given some wonderful advice with regards to our thoughts:
"Whatever is true, whatever is honorable, whatever is just, whatever is pure, whatever is lovely, whatever is commendable, if there is any excellence, if there is anything worthy of praise, think about these things." Philippians 4:8 (ESV).
Sometimes critical, unpleasant and dissatisfied thoughts come to our minds, and we have to choose: should we let them rule over us or can we refuse to swell on these grumbling thoughts. When you refuse to give in to these negative thoughts, this is a way to take up your cross.
Don't worry if this sounds very overwhelming. It takes a lot of practice and self control but it does get easier over time to recognize negative thoughts and put them aside. Then we can allow positive and elevating thoughts to fill our mind.
Paul wrote to the Colossians from prison and gave them actionable and practical ways to take up their cross and show Christ's love. (Colossians 3:5-17) He gave them a list of sins to avoid ("put to death") and explains the damage they cause.
Bring Jesus Into Your Daily Life
There are different things we can do every day to bring the values of God into our lives:
Be kind, gentle and forgiving. Show compassion and humility to others.
We can choose to let peace rule over fear and jealous in our hearts. This is a choice we should make every day. 
It's good to be thankful for what we have. We can make gratitude part of our daily prayers and turn our focus towards the many blessings we receive.
Integrate the word of Christ into your daily routine. The disciples and early Christians didn't have prayer or song books as we do today, so they shared songs and stories in their communities. There are so many ways we can share God's word.
Staying True To Ourselves
As we take up our cross every day, we firmly keep our eyes on Jesus. We put aside anything that distracts us from this, including the love of our possessions, accomplishments and our pride. For us as followers we should seek to tell others about Him, in our daily lives.
This goal will look different for everyone, and the price we pay might be painful. It might mean that friends will not understand and leave, or we might feel we have to defend our faith. In these moments, it's important to stay true to yourself.
Remember that Jesus also experienced fierce rejections in his life, and it did not stop him from speaking out. He stayed firmly on the path to share God's word. 
In Hebrews 12:1-2 (NLT), it says: "… Let us strip off every weight that slows us down, especially the sin that so easily trips us up. And let us run with endurance the race God has set before us. We do this by keeping our eyes on Jesus, the champion who initiates and perfects our faith…"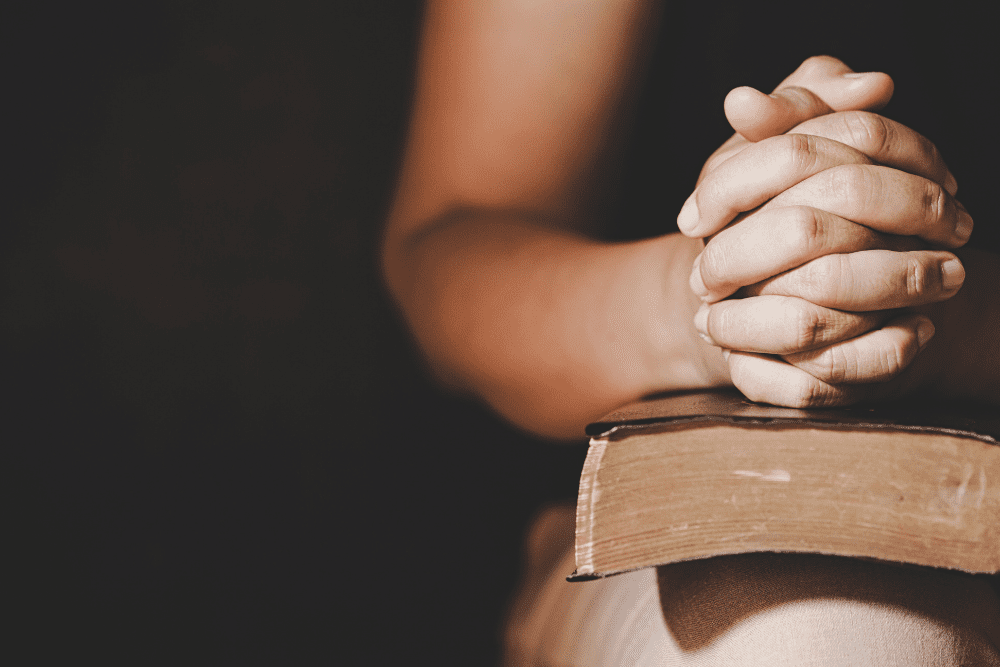 How We Can Take Our Cross Daily
When Jesus went to the cross, it was willingly. He took our sin and shame with him, and thus created a way to spread the message of forgiveness going forward.
For us to take up our cross daily means to express a willingness to accept whatever lies ahead. In this way, we walk in His footsteps and conform to His lifestyle.
But it isn't only the heavy burden that we find on our shoulders when we think of taking up our cross. It's also his mercy, forgiveness, humility and love. While the selfishness drops away from us, we choose to raise these positive things in our life to help us spread the word of God's message.
Of course we cannot do it all on our own, and God does not expect us to. He mercifully gives us His power through being His followers. This loving power starts within us, and spreads across to our local communities, as well as the wider population. 
We can take out God's message of love to those near and dear to us, friends and family. We might find ourselves surprised how very humble and obedient we are in the face of hardships. 
In Acts 1:8 (NLT), God's purpose and will reads: "But you will receive power when the Holy Spirit comes upon you.
And you will be my witnesses, telling people about me everywhere – in Jerusalem, throughout Judea, in Samaria, and to the ends of the earth."
We can start understanding for ourselves what self-interests we think could be crucified. What helps you move forward with God's purpose? For example, think about when you are jealous or angry.
Can you choose for yourself to put these negative thoughts aside, and replace them with positive thoughts and joy.  
It's also important to find out what price you are willing to pay to follow Jesus, and have you experienced any setbacks or discouragement in your efforts to follow God's will.
Taking up our cross is a journey for all our lives. We can choose every day to allow God's love into our hearts and create a world filled with kindness, gentleness and forgiveness. A world Jesus has foreseen and He has blessed us with His teachings. 
https://youtu.be/m8iDCqGzLdY