Is there anyone you can help simply by praying? Of course! Prayer is one of the best ways we can assist others and serve the Lord at the same time. But do you have it in you to become a prayer warrior? Today, let's learn more about the power of serving Jesus by praying. It's both a calling and blessing for praying warriors.
Christians pray frequently – they usually like sto have a conversation with Jesus every day. Typically prayer subjects include thanks, confessions, and praise (see the article, how to pray). God listens to each and every prayer.
What Prayer Warriors Do
Pray confidently
The job of a prayer warrior is quite like your daily prayers, just that it's in reference to those in need. You will pray to God on behalf of others without judging. A prayer warrior or intercessor may pray on behalf of another person or a whole group of people. They pray confidently and boldly.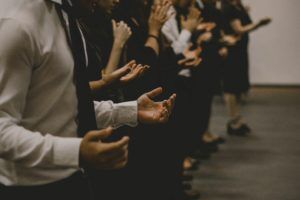 Dedicate to God's Plan
Those who believe in prayer warriors feel they are called to do so because of their faith and understanding of Scripture and the Bible. To be a prayer warrior, you must dedicate yourself to Christ and feel a strong need to help others. You must put God's plans ahead of your own during prayer.
Look for Opportunities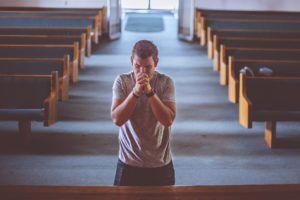 Prayer warriors commit to pray to God completely. While they are at their hobbies or even at work, there is always an opportunity for prayer. This type of prayer isn't selfish, it was meant to help someone. Prayer warriors know they fight between evil and goodness, and they fight by prayer!
Philippians 4:6,7 Do not be anxious about anything, but in everything by prayer and supplication with thanksgiving let your requests be made known to God. And the peace of God, which surpasses all understanding, will guard your hearts and your minds in Christ Jesus.
Most Prayer Warriors Already Have Certain Characteristics
Pray Relentlessly
People who are good candidates for the battle of spiritual warfare are often long-time church members. They have deep faith and know their Bible well. They are relentless in praying, which can lead to exhaustion if they aren't careful.
Display Empathy
Also, people who are good prayer warriors have a great spirit of empathy. They try to understand the people they're praying for, getting a sense of who they are and why they're in a certain situation.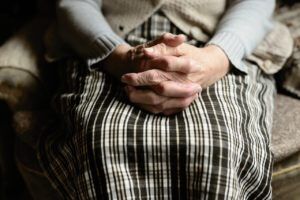 Invoke Trust
Prayer warriors are trustworthy people. You can depend on them to show up, to participate, and to pray, whether it be at church, bible study, or in a small group — or even alone.
Serve Others
Oftentimes prayer warriors are the same Christians you view as leaders in your church life. They may already pray for others. They may lead groups or teach Sunday School. It is evident that they have a spiritual life, and that they like to serve.
Know Scripture
The number one characteristic you'll see is that their knowledge of Scripture. Prayer warriors know Scripture well, understand it, and have memorized portions of it. They are people who know and follow Christ, building on their faith daily.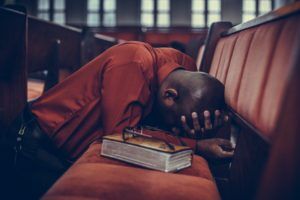 If you are interested in becoming a prayer warrior but you are a new Christian or are young in the faith, you can build up your knowledge of Scripture this year in order to serve later.
How do you Pray like a Prayer Warrior?
Prayer is much more important than anything else when we want to help another person, because it can bring about the biggest change. When you pray, especially if you ask for God's leading and God's will to be done, you can help create a better change than anything we can imagine.
But there are a few ways we could bungle those prayers. For example, the first advice Jesus gave his disciples for praying was that as his followers, we will not behave like hypocritical people. So to be a prayer warrior, we must live a righteous life – that means we do our best to live Biblically and morally correct.
In Matthew 6:7 Jesus said: Don't use vain repetitions.
So we do not repeat ourselves, but pray earnestly from the heart. We only use enough words to get the point made, and don't say the same thing over and over.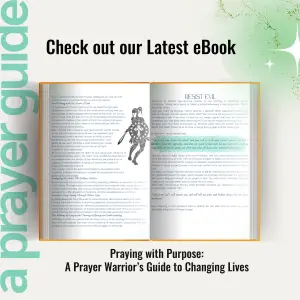 Prayer warriors don't have a religious identity, as such; they have humility. They aren't listed on the church's employees or "servants" list. They aren't acknowledged most of the time. Instead, prayer warriors work behind the scenes, often when no one else is aware of their work.
So are prayer gifts good? The gift of praying for someone else is absolutely good. not only does it mean you have begun to understand the importance of caring for others, but it also helps move you yourself from a selfish to a selfless being.
Is Prayer Warrior a Spiritual Gift?
The other name for Prayer warrior is intercessor. Intercessors are people who pray on behalf of others for their needs. We see it most in crisis. Sometimes an entire church gathers to intervene with prayer. Sometimes God calls specific people or people to intercess alone.
What's interesting is how intercession itself has not been mentioned anywhere in Scripture about spiritual gifts. That's because prayer is a sacred obligation in God's family, and not just in some of us. See this verse:
And pray in the Spirit on all occasions with all kinds of prayers and requests. With this in mind, be alert and always keep on praying for all the Lord's people. (Ephesians 6:18, NIV)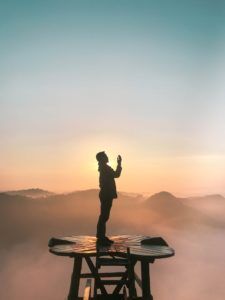 So all Christians are expected to be prayer warriors in a certain sense. We all should include others in our prayers, whether our private or corporate (church) prayers. We are all expected to participate in intercessory prayer. But that doesn't make us all prayer warriors. Only those with certain attributes will be given the name "warrior."
Additionally, although we are all called to pray for others, it may not happen. People might be busy or overwhelmed. they may not have made a habit of praying. Or they might not realize what an important task it is in the lives of others. That's when the true prayer warriors can intervene.
How to Become a Strong Prayer Warrior
Would you like to learn how to pray and fight the spiritual battle for others? When things go badly we always resort to prayer. How do we become a constantly praying person, rather than a bad-times praying person? Here's how you can become a prayer warrior.
Realize that we have more control over situations than we think. Often evil causes bad things to happen on earth, so God gives you the power of overcoming evil through prayer.
Have an understanding of Scripture and God's righteousness. His judgment will always be fair and just. A prayer warrior deeply sees the inevitable fall of the wicked.
Remember that you are praying against Satan. This is spiritual warfare.
Know God. Ask him to reveal the truth to you in each situation.
Be bold. When you must pray, it isn't always in the protected, safe confines of your church walls. Sometimes it is in a true spiritual war zone. A prayer warrior has the mental fortitude to step out in prayer.
Be sensitive to God's hurt concerning the evilness of man. It causes him true pain.
Think of your God-given purpose. When you are working within your calling, your prayers come to you easily and wholly.
Pray for all people, both those we consider "bad" and those we categorize as "good." it is important that all people be covered in prayer for their lives.
Focus on being faithful and the reward for those who are faithful. Walking in faith, continually asking for God's will in total confidence, these are the things to consider in order to remain a useful prayer warrior.
Put on the full armor of God.
We're at war. We've been caught in this spiritual battle which exists between evil and good. When you stop fighting, your enemy will still be there – quite possibly still pushing to win. Become active, not passive! Engage in spiritual warfare knowing God will be with you forever. Your prayers can save the lives of many people.
Is it worth It?
After hearing all this, are you still interested in becoming a prayer warrior? If God is calling you to it, you will not be able to resist. Putting on the armor of god and calling yourself a warrior may change your perspective, both about the world and about yourself. On the other hand, engaging in fervent prayer may give you a sense of peace, since you will feel like your words matter.
Is Prayer Warrior Mentioned in the Bible?
There were quite a few prayer warriors named in the Bible. Daniel immediately comes to mind.
Daniel
Daniel prayed for others. In fact, he prayed for the entire nation of Israel:
"Lord, the great and awesome God, who keeps his covenant of love with those who love him and keep his commandments, we have sinned and done wrong. We have been wicked and have rebelled; we have turned away from your commands and laws. We have not listened to your servants the prophets, who spoke in your name to our kings, our princes and our ancestors, and to all the people of the land…" Daniel 9:4-6
Daniel's prayer was lengthy; here is the end of it in verse 19 when he begs the Lord to make changes:
"Lord, listen! Lord, forgive! Lord, hear and act! For your sake, my God, do not delay, because your city and your people bear your Name."
Job
We do not usually think about Job in terms of his prayer life, but we see at the beginning of his story that he offered prayers and sacrifices on behalf of his family regularly, just in case they had sinned:
"When a period of feasting had run its course, Job would make arrangements for them to be purified. Early in the morning he would sacrifice a burnt offering for each of them, thinking, "Perhaps my children have sinned and cursed God in their hearts." This was Job's regular custom." Job 1:5
King David
King David was probably the most famous warrior of the Bible, but he was also a prayer warrior. He often offered up prayers on behalf of others. In 2 Samuel 24:25, he not only prayed for the Israelites but also took the time to build an altar on their behalf: "David built an altar to the Lord there and sacrificed burnt offerings and fellowship offerings. Then the Lord answered his prayer in behalf of the land, and the plague on Israel was stopped."
In Psalm 4:1, he simply asks God to hear his prayer :
"Answer me when I call to you, my righteous God."
Jesus Christ
Jesus prayed for his disciples and other believers. We see one example in his prayer in John 17:9-11:
"I pray for them. I am not praying for the world, but for those you have given me, for they are yours. 10 All I have is yours, and all you have is mine. And glory has come to me through them. 11 I will remain in the world no longer, but they are still in the world, and I am coming to you. Holy Father, protect them by the power of your name, the name you gave me, so that they may be one as we are one."
More Bible Verses About Prayer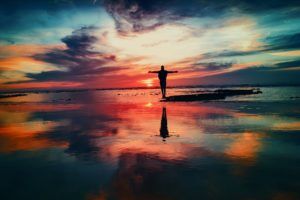 Therefore, confess your sins to one another and pray for one another, that you may be healed. The prayer of a righteous person has great power as it is working (James 5:16, ESV).
But when you pray, go into your room, close the door and pray to your Father, who is unseen. Then your Father, who sees what is done in secret, will reward you. (Matthew 6:6, NIV)
If you believe, you will receive whatever you ask for in prayer. (Matthew 21:22, NIV)
They all joined together constantly in prayer, along with the women and Mary the mother of Jesus, and with his brothers. (Acts 1:14, NIV)
 In that day you will no longer ask me anything. Very truly I tell you, my Father will give you whatever you ask in my name. 24 Until now you have not asked for anything in my name. Ask and you will receive, and your joy will be complete. (John 16:23,24, NIV)
Be joyful in hope, patient in affliction, faithful in prayer. ( Romans 12:12)
I exhort therefore, first of all, that supplications, prayers, intercessions, thanksgivings, be made for all men; (1 Timothy 2:1, ASV)
Call to me and I will answer you, and will tell you great and hidden things that you have not known. ( Jeremiah 33:3, ESV)
For we do not wrestle against flesh and blood, but against the rulers, against the authorities, against the cosmic powers over this present darkness, against the spiritual forces of evil in the heavenly places.  (Ephesians 6:12, ESV)
Questions and Answers About Being a Prayer Warrior
Q: Can anyone become a prayer warrior?
A: Yes. A prayer warrior dedicates himself or herself to prayer. He or she seeks the will of God and lives by the guidance of the Holy Spirit.
Q: How do you become a prayer warrior?
A: By walking closely with God, by following your God-given purpose, and approaching God humbly but continually in prayer.
Q: How can I be more powerful in intercessory prayer?
A: By being in the Word. Reading Scripture, even a few minutes daily, will boost your confidence in your walk with Christ and also expose you to God's truth. Your prayers will gain strength as you gain faith.