There are times when life can be through challenging and difficult situations your way, whether you are dealing with the loss of a loved one or have recently lost a job, and it may seem unlikely that you will ever get through it.
However, this couldn't be further from the truth as many people have managed to overcome their struggles by turning to God and the teachings in the Bible to help them get through any situation.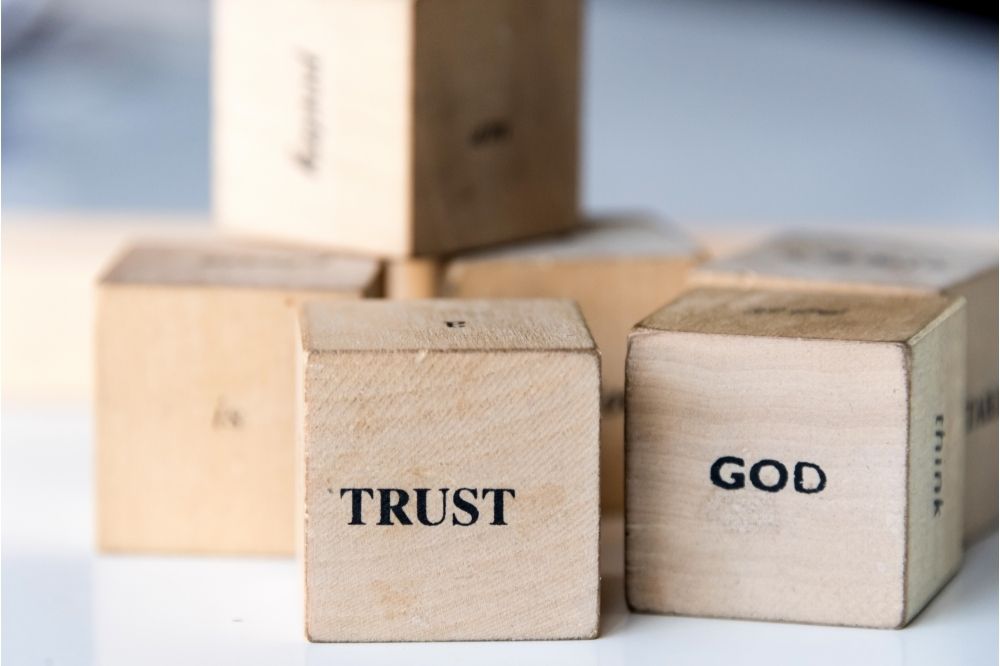 In this article, we've gathered various biblical teachings that can help to inspire you by referring to some biblical figures who have faced trials and tribulations. Being able to put your trust in God will allow you to truly understand the various teachings and see how they can be applied to your own life and your outlook. 
David
David's story begins by his victory against the giant Goliath and his subsequent rise and ends as he becomes King of Israel. However, this doesn't mean that his journey was not without its challenges. The start of his rise was filled with success as he led military campaigns and was head the military operations.
His story sadly took a decline as he became extremely jealous and ended up running away from Saul and hid in a cave alongside other outsiders and misfits. Understandably, David began to doubt God as he felt abandoned as his life has veered away from the path that he had thought God wanted him to be on.
Feeling broken and devastated, David spends the following ten years living a life filled with sadness and misery. Seeing that his life isn't changing for the better, he finds God again after these ten years have passed and is able to use his faith to restore his tattered reputation and ascend to the throne as he becomes King of Israel and thus fulfilling his destiny.
What is important about this story is that when David became King, he was much more humble and showed compassion compared to how he acted before his fall from grace. In order to fulfil his destiny, David had to lose everything he has in order to learn how to forge a better foundation for himself and thus ensure that he is a better King and a better person. 
"And when he had removed him, he raised up David to be their king, of whom he testified and said, 'I have found in David the son of Jesse a man after my heart, who will do all my will.'"
Acts 13:22 
So what can we learn from David's story? The road to fulfilling our destiny is not always going to be smooth but by pushing through the difficult times, we can learn to embrace the good times even more. David's life may not have been as smooth sailing as he had thought it would be but it was his refound faith in God that allowed him to get through his difficulties and back on his path.
When David was anointed as King of Israel, he was an improved man filled with love and compassion which he learned from his fall. This implies that David's difficult times were important as they contributed to the man that he eventually became and highlights God's plan for all of us. 
Questions that you can consider:
Is there something in your life that isn't what you pictured?
Does this impact your faith and belief in God?
Do you pray about what God's plan is for you?
Deborah
Perhaps the difficulties in your life stems from a feeling of not being able to accomplish anything on a daily basis. For those who are seeking a story for motivational inspiration, the story of Deborah is sure to be the right one for you.
Finding yourself feeling unconfident and disappointed in your abilities can be extremely disheartening and it is times like these when turning to God can provide you with the inspiration and clarity to keep moving forward. Deborah was a woman of status as she was a prophetess, a mother, and wife as well as a judge and leader.
Not only does this mark her as a source of inspiration but it also shows how she was a respected figure among everyone, including men. She led people into battle successfully and was known to help those who were struggling and did all of this thanks to her faith in God, even through the difficult times. 
"Now Deborah, a prophetess, the wife of Lappidoth, was judging Israel at that time. She used to sit under the palm of Deborah between Ramah and Bethel in the hill country of Ephraim, and the people of Israel came up to her for judgment. She sent and summoned Barak the son of Abinoam from Kedesh-naphtali and said to him, "Has not the Lord, the God of Israel, commanded you, 'Go, gather your men at Mount Tabor, taking 10,000 from the people of Naphtali and the people of Zebulun. And I will draw out Sisera, the general of Jabin's army, to meet you by the river Kishon with his chariots and his troops, and I will give him into your hand'?" Barak said to her, "If you will go with me, I will go, but if you will not go with me, I will not go.""
Judges 4:4-10
The story of Deborah is an important one because it shows how she trusted God through many victories and knew he would guide her along the right path. Not only does this ensure that Deborah became one of the most respected women in Israel, but her faithfulness ensured that she was able to use her faith and influence to help others.
Often referring to herself as the "mother" of Israel, Deborah took it upon herself to take care of others and used her platform to encourage kindness and compassion. Her story is great for those who are struggling with the overwhelming aspects of life and want to use their time for good but don't know how.
By incorporating God into our daily lives in a small way, this will help you to get through the difficult times and also ensure that you are bettering yourself as a person as well as you can treat yourself and others better. Deborah never cared about her titles and social standing but was able to use these as a way to connect with others. 
Questions that you can consider:
Which areas of your life overwhelm you?
How can you incorporate God into your daily life?
Is there anyone who you can help by reaching out to them?
Esther
You may find yourself going through difficult times because you were too afraid to speak out against something you believe is wrong. Or perhaps there is something you have been wanting to speak about but are struggling to find the courage.
This is exactly what happens to Esther who is a young queen, forced to hide her Jewish heritage from the king. What makes Esther such a courageous character is that she doesn't strive to be an amazing leader or a source of inspiration but she simply wants to survive.
In order to do this, standing up the king seems impossible, but watching her people suffer because of a law that she doesn't believe is right sees Esther turn to God for the courage that it takes to speak to him.
Mordecai helps Esther develop the courage needed and challenged her to take the leap of faith and that God would be by her side. What followed was a success and Esther was able to save herself and her people from any further sufferings. 
"On that day King Ahasuerus gave to Queen Esther the house of Haman, the enemy of the Jews. And Mordecai came before the king, for Esther had told what he was to her. And the king took off his signet ring, which he had taken from Haman, and gave it to Mordecai. And Esther set Mordecai over the house of Haman. Then Esther spoke again to the king. She fell at his feet and wept and pleaded with him to avert the evil plan of Haman the Agagite and the plot that he had devised against the Jews. When the king held out the golden scepter to Esther, Esther rose and stood before the king. And she said, "If it please the king, and if I have found favor in his sight, and if the thing seems right before the king, and I am pleasing in his eyes, let an order be written to revoke the letters devised by Haman the Agagite, the son of Hammedatha, which he wrote to destroy the Jews who are in all the provinces of the king."
Esther 8:1-17 
Esther is a great source of inspiration for those seeking more courage. She acted against her fears and asked for her family and friends to pray for her as she stood up to the king. By using her faith in God to speak up for what she believed was right, she was able to save herself and her people.
This doesn't mean that Esther wasn't afraid when she spoke up to the king, but she was able to face up to her fears and do what was right and has served as inspiration for those needing more courage ever since. 
Questions that you can consider:
Are there any fears that you feel are holding you back?
Do you feel as though God has a plan for you?
Are there any ways that you can be as courageous like Esther?
Isaiah
You may be having a difficult time due to some bad news that you were or weren't expecting. Whether this is the loss of a loved one or perhaps something didn't go according to plan, bad news will affect us all at some point or other.
Sometimes when people feel sadness, pain, or any other negative feelings and emotions, they may be afraid or embarrassed to ask for help whether that is physical, emotional, or mental.
Having faith in God is tested during these times as you may begin to question why these events have happened to you if you are so loyal; however, it's important to know that God has a plan for all of us and none more so than Isaiah and his story.
God came to Isaiah and appeared before him in a vision to deliver a message to the Israelites and provide them with the hope they need for the future. Isaiah then dedicated his life in spreading the word of God's plan in the hope that this will help others who need to hear it. 
"The Spirit of the Lord God is upon me, because the Lord has anointed me to bring good news to the poor; he has sent me to bind up the brokenhearted, to proclaim liberty to the captives, and the opening of the prison to those who are bound; to proclaim the year of the Lord's favor, and the day of vengeance of our God; to comfort all who mourn; to grant to those who mourn in Zion— to give them a beautiful headdress instead of ashes, the oil of gladness instead of mourning, the garment of praise instead of a faint spirit; that they may be called oaks of righteousness, the planting of the Lord, that he may be glorified. They shall build up the ancient ruins; they shall raise up the former devastations; they shall repair the ruined cities, the devastations of many generations. Strangers shall stand and tend your flocks; foreigners shall be your plowmen and vinedressers"
Isaiah 61 1:11
Bad news is something that affects us all and the way we respond to bad news can differ. Negative feelings can take hold such as anxiety, depression, anger, and confusion to name a few which can then manifest in a loss of faith.
What Isaiah's story teaches us is that feeling upset is natural but what we do with those feelings is important. Instead of dwelling on these feelings, it's important to understand that you will get through these difficult times and that keeping your faith in God is especially important when the going gets tough.
Being faithful to God is easy when everything is smooth sailing but when the road gets a little bumpy, this is when faith is truly tested. Isaiah knew this and didn't let his pain and sadness affect his faith in God and he used his faith to help others in similar situations and helped to spread the word.
Being truthful in how you are feeling with God will help to develop your relationship with him and give you the strength and courage needed to go on. It is this honesty with God that allowed Isaiah to face his sadness and find the light through the dark times. 
Questions that you can consider:
How much do you confide in God about your pain or other negative feelings?
Has your faith began to waiver and become replaced by feelings of isolation or anger?
Is your relationship with God affected by bad news?
Jacob
You may be going through a difficult time after making a mistake and want to turn to God in a bid to better yourself and face the consequences of your actions. Admitting your mistakes is a way that will bring you closer to God and strengthen your relationship with him and the story of Jacob is a perfect example of this.
Jacob is a well-known figure in the Bible and was prone to act selfishly which resulted in a lot of conflict and mistakes made on his part. His relationship with his brother Esau was deeply complicated as Jacob stole the birthright from Esau due to his greed and refused to meet with him when he heard he was visiting.
However, he turned to God and built up the courage to face Esau and admit to his mistakes and misdeeds. The result of which sees the brothers reconciling and changing himself for the better by dedicating his life to God's work. 
"And behold, the Lord stood above it and said, "I am the Lord, the God of Abraham your father and the God of Isaac. The land on which you lie I will give to you and to your offspring. Your offspring shall be like the dust of the earth, and you shall spread abroad to the west and to the east and to the north and to the south, and in you and your offspring shall all the families of the earth be blessed. Behold, I am with you and will keep you wherever you go, and will bring you back to this land. For I will not leave you until I have done what I have promised you." Then Jacob awoke from his sleep and said, "Surely the Lord is in this place, and I did not know it." And he was afraid and said, "How awesome is this place! This is none other than the house of God, and this is the gate of heaven.""
Genesis 28: 13-22
Jacob initially ran away from his problems instead of facing his problems but he eventually put his trust into God and managed to build up the courage needed to meet with his brother and face the consequences. You may be feeling the same fear that Jacob did but this fear doesn't going away over time since the issue hasn't been resolved.
This is why it is important to ensure that you are honest with yourself and with God and find the courage needed to admit your mistakes. Not only will this help to strengthen your relationship with God, but it will also help to heal any relationships that may have become fractured with close family and friends.
Being able to admit your mistakes and learn from them will help you to become a better person and will help you to prevent making the same mistake in the future. 
Questions that you can consider:
What are your responses like when you have made a mistake?
Do you cope well in facing consequences?
Do you feel defensive or confide in God regarding your actions?
Moses
One story that is taught from the Bible for all ages is the story of Moses. Moses was born during a time when the Pharoah had ordered that all newborn Hebrew boys are killed in a bid to reduce the Israelite population.
Moses' mother, however, managed to successfully hide Moses and he was raised within the Pharoah's household and regarded as a member of the family. As treatment of the Israelites worsen, Moses finds himself conflicted between the love he has for his family and the love he has for his people.
One day, God comes to Moses in the form of the burning bush and commands that he help release the Israelites from slavery. Moses' pleas to the Pharoah fall on deaf ears and subsequently sees God inflict the plagues upon Egypt to those who don't believe in him.
The plagues push Pharoah to free the Israelites but as they escape, led by Moses, Pharoah decides to pursue them with his army. Using his staff, Moses parts the Red Sea and guides the Israelites to freedom. When they have all reached safety, Moses closes the sea down on the Egyptians who were in pursuit of them. 
"Come, I will send you to Pharaoh that you may bring my people, the children of Israel, out of Egypt." But Moses said to God, "Who am I that I should go to Pharaoh and bring the children of Israel out of Egypt?" He said, "But I will be with you, and this shall be the sign for you, that I have sent you: when you have brought the people out of Egypt, you shall serve God on this mountain." Then Moses said to God, "If I come to the people of Israel and say to them, 'The God of your fathers has sent me to you,' and they ask me, 'What is his name?' what shall I say to them?" God said to Moses, "I am who I am." And he said, "Say this to the people of Israel, 'I am has sent me to you.'""
Exodus 3: 10-22
What makes the story of Moses such a key story to refer to during difficult times is that it sees God guiding Moses and the Israelites to freedom by having them in the right place at the right time. Not only does God find them a way out, he also finds a way to eliminate the enemy.
The struggles that Moses and the Israelites endure at the hands of the Pharoah and Egyptians is soon rectified by the plagues and the eventual distruction of the army in the Red Sea. You can always rely on God to show you the unexpected path when you are faced with a difficult time and manage to push yourself through regardless.
Ensuring that you still have faith in God during these turbulent times will mean that you have everything you need.
Questions that you can consider:
Do you think that God can help you get through your difficult situation?
Do you think that changing your prayer will help you find the courage on pushing through these difficult times?
Does reading Moses' story and the freeing of the Israelites change your view or perception of God?
Naomi and Ruth
Going through difficult times can often leave us feeling isolated and lonely. This is because we can begin to shut people out as we feel that we are the only ones who feel this way and don't want to confide in anyone.
However, confiding in God is extremely important as this will ensure that you are able to strengthen your relationship with him by being honest and ensuring that you have the courage to seek help from others.
One story in the Bible that you can turn to is that of Naomi, a woman whose life became lonely after the loss of her husband and sons; however, she found comfort in the company of her daughter-in-laws, especially Ruth, and was able to eventually find peace and comfort thanks to their faith in God. 
"Now Naomi had a relative of her husband's, a worthy man of the clan of Elimelech, whose name was Boaz. And Ruth the Moabite said to Naomi, "Let me go to the field and glean among the ears of grain after him in whose sight I shall find favor." And she said to her, "Go, my daughter." So she set out and went and gleaned in the field after the reapers, and she happened to come to the part of the field belonging to Boaz, who was of the clan of Elimelech. And behold, Boaz came from Bethlehem. And he said to the reapers, "The Lord be with you!" And they answered, "The Lord bless you." Then Boaz said to his young man who was in charge of the reapers, "Whose young woman is this?""
Ruth 2: 1-23
Naomi's relationship with Ruth grows into a strong friendship that lasts for the rest of her life. No matter how many times Naomi turns away Ruth's pleas to help, Ruth continues to make sure that her mother-in-law isn't alone and helped ease the pain through the difficult time.
Eventually, Naomi begins to understand that Ruth brings more love towards her than her seven sons which is highlighted when she gives birth. 
"Then the women said to Naomi, "Blessed be the Lord, who has not left you this day without a redeemer, and may his name be renowned in Israel! He shall be to you a restorer of life and a nourisher of your old age, for your daughter-in-law who loves you, who is more to you than seven sons, has given birth to him." Then Naomi took the child and laid him on her lap and became his nurse. And the women of the neighborhood gave him a name, saying, "A son has been born to Naomi." They named him Obed. He was the father of Jesse, the father of David"
Ruth 4: 14-17
So what can you learn from Naomi and Ruth's story? We all feel alone and isolated at some point but what we do during these difficult times matters. It's important to reach out for help whether this is from God or from those around you.
Not only will this help you to get through the bad times, but will also strengthen your relationships with God and those you choose to confide in. There is the saying that a problem shared, is a problem halved and this is extremely true so it is important to build up the courage to ask for help when needed.
Naomi felt alone as her husband and sons died but in her daughter-in-law, she found someone who she could confide in and forged a meaningful relationship with her. 
Questions that you can consider:
Are any relationships affected negatively when you are going through a difficult time?
Do you see how God is providing comfort for you even through these difficult times?
Do you think these difficult times are affecting anyone in your life in particular?
Shadrach, Meshach and Abednego
You may find yourself in a situation where you are forced to complete tasks under peer pressure. Or perhaps you may have acted in a way that you normally would not because someone else told you to. There are plenty of stories that explore this kind of situation and one such extract is the story of Shadrach, Meshach and Abednego.
Shardrach, Meshach and Abednego were deeply religious and openly identified as Jewish. This forbade the orders of King Nebuchadnezzar of Babylon who had a golden statue built and ordered everyone in the land to worship it.
The men were summoned by the King who demanded that they bow before the statue. When they refused, they were punished to fall into a fiery abyss and did so happily as they were able to keep their faith in God and knew that God was with them no matter what happened.
The result was that they danced among the flames and the servants around the furnace were burnt to ashes because they did not keep their faith. The King also saw a fourth man in the fire who was God himself dancing with them, a sign that their faith was rewarded. 
"Shadrach, Meshach, and Abednego answered and said to the king, "O Nebuchadnezzar, we have no need to answer you in this matter. If this be so, our God whom we serve is able to deliver us from the burning fiery furnace, and he will deliver us out of your hand, O king. But if not, be it known to you, O king, that we will not serve your gods or worship the golden image that you have set up.""
Daniel 3: 16-18
Although the situation that the men were in was life-threatening, the moral of the story can be applied to a lot of situations. What makes this story stand out is the dedication that Shardrach, Meshach and Abednego had for God and that their faith was never tested.
Even when threatened with death, they refused to bow down to the statue as it did not represent their faith. When they are thrown into the furnace, they do not burn thanks to God and the heat is turned up and they still do not die.
The moral of the story is that faith is much more than the material world and is not something that can be bought or forced. They did not want any praise or glory but wanted to continue practicing their faith for God and were happy to sacrifice themselves in doing so. 
Questions that you can consider:
Does your difficult situation affect your faith?
Do you believe that no matter what happens that God guides and loves you?
What motivates you to better your situation?
Woman Healed by Jesus
For those who have been suffering from a long term chronic illness, there are biblical extracts that you can look to. One such story is about the woman who bled for 12 years who was healed by Jesus. Although this woman doesn't have a name, her story has resonated with many around the world thanks to its message.
Located in Mark's gospel, Jesus is among a large crowd as people have traveled from all over to see him. Among this crowd is a woman who has suffered from bleeding for 12 continuous years. She has no money as she has spent it all on medical treatments that have not worked and no doctor can give a precise diagnosis.
Society deemed her unclean due to her illness and no one would dare go near her; however, she kept her faith in God and Jesus despite what others thought of her. The woman had heard about Jesus and touched his garment as he walked by and this healed her disease.
This action on the woman's part took a lot of courage and risk but her faith in Jesus and his abilities was able to heal her pain and suffering and allow her to live her life. 
"And there was a woman who had had a discharge of blood for twelve years, and who had suffered much under many physicians, and had spent all that she had, and was no better but rather grew worse. She had heard the reports about Jesus and came up behind him in the crowd and touched his garment. For she said, "If I touch even his garments, I will be made well." And immediately the flow of blood dried up, and she felt in her body that she was healed of her disease."
Mark 5:25-34
No matter what your illness may be, it can become frustrating and affect your faith in God, especially when it seems that there is no end to the pain; however, it is important to make sure that you try new things like the woman in the story did and keep your faith in God so you can maintain a positive outlook.
The woman in this story may not have a name, but her story is one that has stood out against most thanks to its message and the resonance it has. She acted against her fears and the fear that society had against her and touched Jesus' garment with the faith that it would heal her, and it did.
This miracle is a sign that having faith and stepping outside of your comfort zone can be the right decision for you and help you to get through your illness. 
Questions that you can consider:
Is your faith affected by any physical, mental, or emotional health conditions?
How has your faith been affected in this situation?
How can faith help to improve your feelings?
Zechariah and Elizabeth
A lot of difficult times can be triggered by a longing. Longings can span a lot of things such as healing from a health condition, being denied something that you have wanted for a long time, or a weakness in character that you are struggling to overcome.
If you feel as though this is you, then the story of Zechariah and Elizabeth is one that you will understand. Society during biblical times believed that God's love was measured by the amount of children you have and for Zechariah and Elizabeth, their childlessness was something that broke their hearts and left them longing to be bless with a child in their lives.
They had been married for a long time and Zechariah worked as a priest under the Abijah division while Elizabeth was one of Aaron's descendants and the two led dedicated lives under God's teachings.
However, Elizabeth was unable to carry children and they had grown old in age but their faith in God did not dwindle. The result of their lasting faith was God blessing them with a child, who would grow up to be John the Baptist.
"And there appeared unto him an angel of the Lord standing on the right side of the altar of incense. And when Zacharias saw him, he was troubled, and fear fell upon him. But the angel said unto him, Fear not, Zacharias: for thy prayer is heard; and thy wife Elisabeth shall bear thee a son, and thou shalt call his name John. And thou shalt have joy and gladness; and many shall rejoice at his birth.
Luke 1:11-14
What is amazing about the story of Zechariah and Elizabeth is that they spent years of their lives longing for a child but were unable to conceive. Despite their heartbreak and disappointment, their faith in God never faltered and Zechariah thrived as a figure of authority within the church.
Because of their dedication and strong belief and faith in God, their wishes were granted and they were blessed with a son. The message from Zechariah and Elizabeth's story is that their faith in God remained throughout the years despite the hardships.
Becoming disheartened is understandable in these conditions just as any longing can provide but knowing that you can turn to God in these troubled times will hopefully give you the confidence to get through the difficult times.
Blessing Zechariah and Elizabeth with a child was God's way of showing them love and gratitude thanks to their many years of faith and service of his teachings. What made Zechariah and Elizabeth worthy of having their longing granted was that they knew that God had a plan for them and knew that waiting a longer time for their child would make them even more appreciative and understanding of God's ways.
No matter what your own longing is, whether it is a child of your own or wanting to be healed from a health condition, keeping your faith in God will ensure that you are able to get through difficult times. 
Questions that you can consider:
What is it that you are longing for?
Does your longing affect your belief and faith in God?
Do you believe that God doesn't hear your prayers and wants to satisfy your longing?
Frequently Asked Questions
What does trusting God mean?
Trusting God means that you are always putting your faith in Him no matter what situation you find yourself in. Trusting God through normal times is easy but it is when you are faced with more difficult situations that you may begin to feel tested by Him. Ensuring that you have complete trust in God and that he has a plan for you and your life will strengthen that trust and faith. 
Is faith the same as trust?
Faith and trust may be used interchangeably but they are not actually the same. Faith explains the wider spiritual context whereas trust is an aspect needed within any relationship whether that is with your faith or with your friends and family.
It's understandable that faith and trust are used together because they often go hand in hand and cannot work without the other. 
How do I build my faith and trust in God?
Building your faith and trust in God can be simple by making small changes in your daily life. Make sure that you do what you can to learn as much about God and his teachings.
You can start attending a church and join a congregation which can be great for those who want to be a part of a community while also giving you the chance to listen to the word and spread the word. 
Conclusion
No matter what you are going through, there are always ways in which you can confide in God and find inspiration to push through the difficult times and make things a little easier.
Whether you have found yourself in an unexpected situation, lost a loved ones, or have made a mistake that needs correcting, there are plenty of figures in the Bible that you can turn to for guidance and help.
Trusting in God to guide you through these difficult times will help you to strengthen your relationship with him and keep your faith when you feel as though you are being tested.